Enjoy better golf with our professional golf coaching
---
The Warren Golf Club is home to two excellent PGA professionals Jon Langmead and Jody Bee, where the goal is simply to help you achieve your goals in the game. Whether the ambition is to learn, improve or excel, you will find the team of coaches dedicated to moving your golf forward.
Why Coaching?
Here at The Warren, we offer a variety of different solutions to help you improve your game. Both of our Pros, Jody Bee and Jon Langmead, offer a mix of swing room and on-course lessons.
Developing golfing skills takes time and patience but can be accelerated with guidance from a specialist coach.

Lessons will cover:
Golf Fundamentals
Swing Basics
Short Game
Long Game
Course Management
Jon Langmead - Head PGA Professional
Jon is a former English Amateur Champion and has had numerous successes as a PGA Professional. He has been fortunate to compete in tour events around the world on African, Asian and European tour circuits including two PGA Championships at Wentworth. Jon loves to teach players of all abilities and has gained experience working extensively with top coach Dennis Pugh (Molinari's coach and Sky TV presenter). In recent years Jon was instrumental in the setting up and designing of Exminster Golf Centre and was Head Coach to the elite squad of Exeter University when they won the national Championships at Formby. Jon's love of authentic Links golf and passion for the Warren is very apparent in his drive to help make the Warren become a great place to play and be a member.
---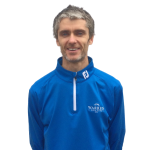 Jody Bee - Assistant PGA Professional
I work on the principle that we're all different and we all learn in very different ways. Whether you're the sort of person who needs to listen to some clear instructions, see yourself on a swing monitor or simply get stuck in and learn by your mistakes, my teaching will reflect your needs. Over the years I have coached everyone from beginners to Professionals and one thing is always true… we're all individuals and we need individual coaching that's right for us. So, if your game is unravelling before your eyes, stuck in a rut that you can't seem to get out of or just needs a bit of tweaking to take you to the next level, and let's talk it through. I'm looking forward to working with you!
---
Ben Sclater
Bio coming soon...
---
Stuart Coles
Bio coming soon...
---